Getting to know Gil Oved
From teen TV presenter to mega mogul entrepreneur, Gil has come a long way. The co-CEO and co-founder of The Creative Counsel has a string of successful businesses and a starring role in helping out young, budding entrepreneurs on Dragon's Den South Africa, which aired on Mzanzi Magic recently. We chat to him about his journey from rock bottom to top dog, his passion for business and shoes and his obsession with underwear…
What are you most afraid of? Mediocrity. I always wanted to make a difference and be the master of my own destiny. That's what fuelled me to go for auditions at a young age and land the presenter gig for teen magazine programme, Zap Mag.
What was it like to be a presenter? There I was … 15, inexperienced in front of the cameras … and they told me that in celebration of my first episode the entire script I had learned was now going to be rapped, homie style! Needless to say it was an epic failure. I'll never forget the words of one of the seasoned cameramen who turned to the director and said he had never, ever wasted so much tape on a single take. I'm not sure what compelled the producers to invite me back! It was an amazing experience, but not for the reasons I thought. I expected that the fun part would be fame. In fact, that was the least pleasant experience and I quickly became more attracted to being behind the camera instead of in front of it which is why I started my first business, Jewazi productions, with Vusi Twala.
What's been your biggest business failure? The Internet boom was upon us and all around, IT millionaires were sprouting. I just had to get in on that action! A high school friend, Ran Neu-Ner, and I quickly set about developing a website called Wealthmaker but project creep got the better of us and just as we were about to finally launch, our investors went into liquidation. It was a bust and we lost everything – confidence, money, credibility, time. We knew we still wanted to work together though so when Ran's girlfriend told us she was making good money finding friends to promote products for liquor companies, we figured we'd do that while looking for what we really wanted to do with our lives. Little did we know that it was the beginning of The Creative Counsel. Promotions led to activations which led to more opportunities to branch out further and we actually won the Young Business Leader of the Year award at the All Africa Business Leader Awards last year.
What's kept you motivated through all the highs and lows? Passion-fuelled optimism. It's my mantra and it's trademarked. OK, not really, but if it's used by others, I'd like some credit for it. In everything I do in life, that mantra seems to work. I think being a realist is way overrated. It's all imagination after all, because nothing is really real. I'm not proposing being blind about what goes on, but I believe that outlook and intent play a huge role in the outcome of one's life.
What are you most passionate about? I love learning, growing, meeting people, that's my true passion – people! That being said, when it comes to material things, I have a huge passion for shoes. My mom keeps reminding me that I only have two feet, but alas, when I see a hot new pair of shoes, all resistance crumbles.
Any other quirks we should know about? I must attest to the fact that I have a penchant for socks and underwear. There's something rather liberating about knowing you are wearing something that no one knows about. I like to look for the quirkiest and most creative kinds of underwear and even have certain underwear that only gets worn for big, scary, important meetings. But shhh … this is just between us. (Oops! Sorry Gil.)
What's the quickest way to make money? Generally, the quickest way to make money is also, unfortunately, the quickest way to lose it! Easy come, easy go, so the quickest way would probably be to put all your money on red. But don't do it!
What's up next? This year is the year of growth into Africa, of re-inventing what we do as a business, of extending the experiences I've had as a judge on Mzanzi Magic's Dragons' Den South Africa and building the businesses I invested in on the show. It offers great meaning to feel that you're the co-creator of something. The viewers' response has been incredible so the other Dragons and I decided to write a book about our experiences and insights stemming from the show and its outcome. Watch out for it, it's going to be on shelves very soon.
Details: www.creativecounsel.co.za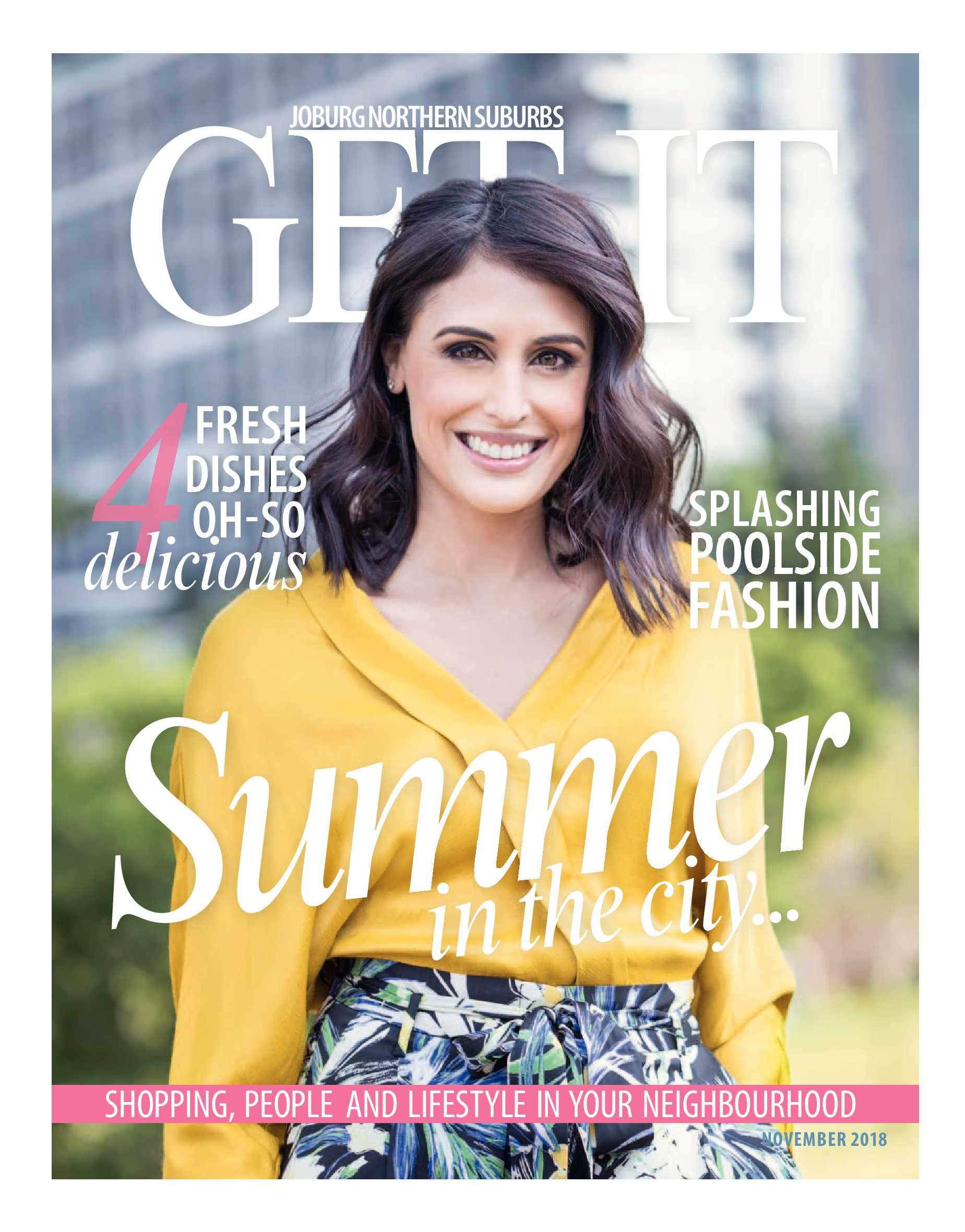 Going Down … at Graskop Gorge
Imagine a lift taking you more than 50 metres down the face of the gorge into a forest below … a forest where you can explore one of South Africa's few Afromontane regions. Welcome to the Graskop Gorge Lift Co.
November Summer Spoil
Summer's looking more and more colourful. With shades of sunset pink, marine blue, grenadine and more, these Chameleon ICE watches go from the beach to the cocktail bar … beautifully!
Win tickets to Calum Scott with an exclusive meet and greet
Win with RMB WineX 2018
Calling all connoisseurs, happy sippers and wine lovers in general – the Must-Attend wine event of the year is heading our way.
October Spoil 2018
Welcome summer with an extraordinary rosé
Spring Spoil
We're celebrating the arrival of spring with a sundowner picnic
is a national brand of premium free magazines available in centres across the country.
to see other Get It magazines in the network.