Meet weight loss inspiration – Natasha Kisten-Skuce
Having lost 15kg within 10 months Natasha's journey very quickly progressed from one of weight loss to one of fitness. Her blog 'Fit Like Mommy' covers her incredible journey and she has also been named the Face & Body Ambassador of FIBO Global Fitness Africa – one of the biggest fitness expo's to hit SA shores later this year.
Natasha, tell us about your journey that has taken you from one end of the scale (excuse the pun) to the other?
After a health scare in December 2016, I found out I was chronically ill and made the decision to embark on a weight loss journey.  Having lost 15kg within 10 months my journey very quickly progressed from one of weight loss to one of fitness.
I honestly believe that fitness found me.  It's been a saving grace in so many respects and it's something I am now extremely passionate about.  Living to inspire was never on my initial agenda, but I've found this to be the best and most rewarding part of my journey.
What does it mean to you to be announced as The Face & Body Ambassador FIBO Global Fitness Africa?
It means having a larger platform advocating the principles mentioned above to teach people what self-love and self-acceptance in its entirety is.  Me being the Face & Body of FIBO is really about breaking stereotypes.
It's about showing the world that FITNESS is not determined by the number on the scale and not a specific body type or shape.  It is about showing people that we should all be prioritising ourselves and our health, which will inadvertently allow us to live our best lives.
This will, in turn, benefits our loved ones in the most incredible way, as we all know that you can't pour from an empty cup.  I am living proof that anyone can find their FIT in FITness.
What's next for you?
After the show in October, I plan to study towards a qualification in Specialised Nutrition as well as Personal Training.  I didn't find fitness, Fitness found me.  I'm passionate about it and want to help women achieve a healthy level of fitness through a balanced diet and sustainable training regime.
What is your one key fitness tip that would work for almost anyone, that is simple and easy to do?
The one fitness tip I often give is to set realistic fitness goals.  Do so by setting mini goals which you can build on as the weeks progress. Focussing on the ultimate goal can often be extremely overwhelming and frustrating.   We want to be building self-confidence and self-efficacy as we are in this for the long haul.
What has been the most difficult thing to give up on your journey, and what did you use to replace it with?
Sugar was definitely my biggest obstacle.  I was honestly addicted to it and instead of replacing it, I stopped consuming all forms of sugar immediately.  A year later, I have reintroduced sugar into my diet but in moderation.  I can now go for days without sugar, so I've definitely broken that dependency. I am however extremely conscious of the negative effects sugar can have on my health and well-being.
Favourite snack?
It's definitely a toss up between chocolate and ice-cream. So I guess that chocolate gelato would be my ultimate snack.
What is the one biggest lie or misconception that people believe when it comes to weight loss?
The biggest misconception is that carbs make you fat.  Low-carb diets can help with weight loss. In many cases, this happens even without conscious calorie restriction. As long as the carbs are kept low and protein intake is high, people lose weight.  However, this does not mean that carbs cause weight gain. The truth is, refined carbs are definitely linked to weight gain, but whole foods that are high in carbs are very healthy.
What is one thing that you suggest that someone can do to keep as fit if they don't have time to go to the gym every day?
I highly recommend working out at home.  It's a huge time saver and definitely removes all excuses.
Find out more about FIBO and Natasha – here…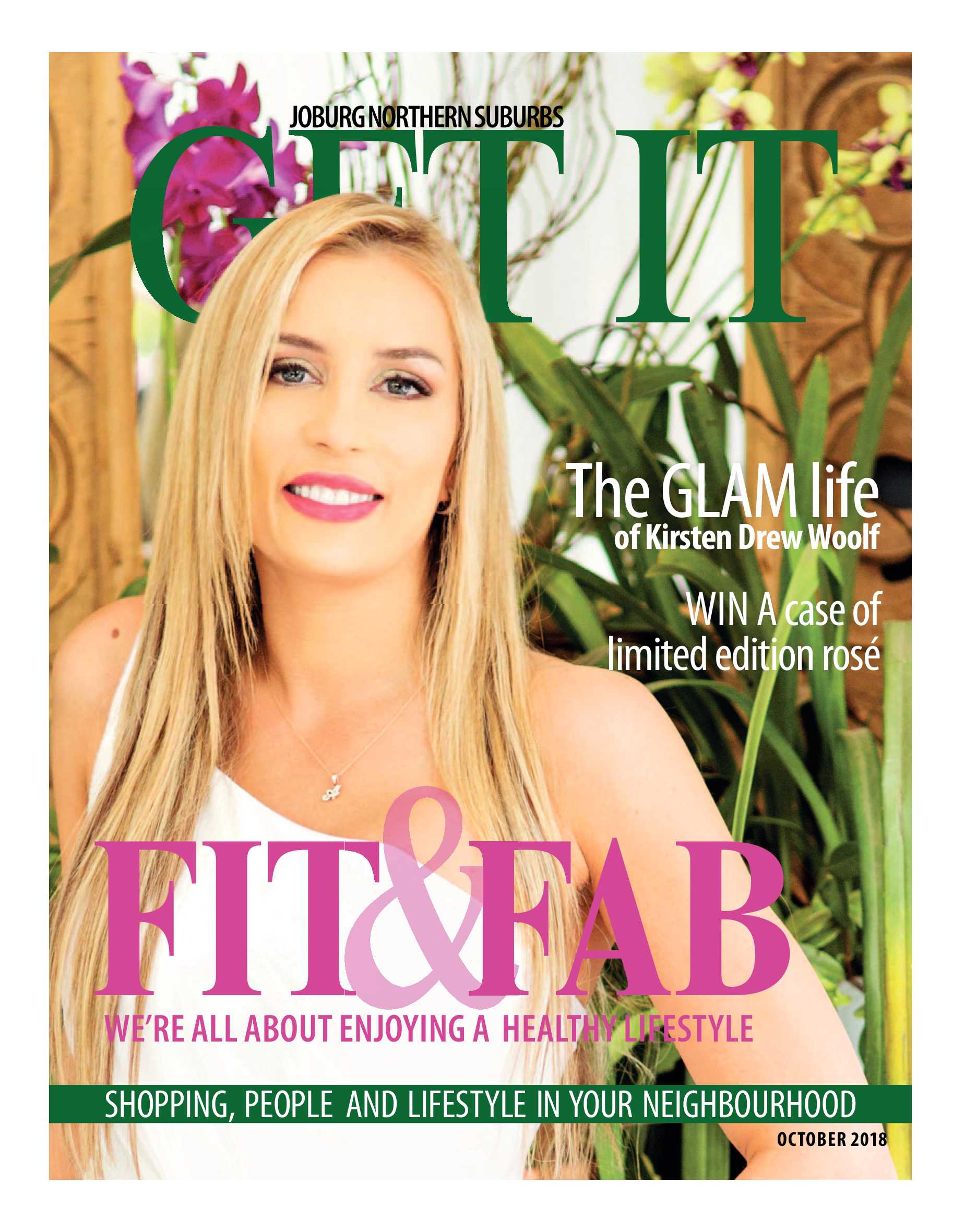 Win with RMB WineX 2018
Calling all connoisseurs, happy sippers and wine lovers in general – the Must-Attend wine event of the year is heading our way.
October Spoil 2018
Welcome summer with an extraordinary rosé
Spring Spoil
We're celebrating the arrival of spring with a sundowner picnic
is a national brand of premium free magazines available in centres across the country.
to see other Get It magazines in the network.