Meet Clayton Boyd – local actor and restaurant owner
Clayton lives in Craighall Park with his wife and together they also run the fabulous Dolci Cafe in the area. We caught up with Clayton to find out more…
Clayton, tell us how the acting bug bit, and a bit more about your transition in to acting?
Acting has always been one of those things that I just did. Even further back than I can remember I put on little plays with my sister at home and in pre-primary played one of the three wise men in a school nativity play, I think I was 6. I acted ( all through school, but it wasn't until a drama teacher in the 11th grade made the suggestion of doing it as a career, that I considered it.
My Dad had a very traditional 'go to school, then university, then work for the same company your whole life kind of job' outlook so the idea of acting as a career was something he didn't understand. So the compromise was that I would study two degrees – a BA Theatre and a BA Psychology. When I received a full scholarship to obtain my Masters of Fine Arts in Theatre, my folks conceded that this was what I was going to do the rest of my life. I have often done other things to pay the bills – including opening my own restaurant -but I have actively pursued acting since high school.
Tell us about your role, Mr Carlson who is the teacher, on Generations?
Mr Carlson, is a very genuine, nice, caring, high school IT teacher. He takes Lesedi under his wing, as she doesn't come from the same traditional back ground as the other children at this prestigious private school. He has been around on Generations since the first day of school but at first had a very peripheral role.
We had a long bullying storyline, including an autistic child in the class, which Lesedi had to navigate, and Mr Carlson was both a source of negative and positive reinforcement during that story. He eventually was a big support to Lesedi.
Something big is coming for Mr Carlson – can you give us a bit of a hint?
While the 11th grade class was away on a Leadership Camp, something happens to Lesedi and she starts to think that Mr Carlson is at fault. Lesedi knows something happened to her while she was sleeping, but has no memory of the incident. She starts to suspect Mr Carlson of doing something to her while she was asleep. She eventually convinces herself that he is a bad guy and then takes it a step further.
Where would we find you in your spare time, when you are not on set?
I own and run a restaurant so between acting and voice work, the restaurant, and going to the gym (trying to maintain some semblance of health), I don't have a lot of time. My wife Jackie and I enjoy trying new restaurants, and I love reading.
The last three years we have been really focused on building our restaurant so there hasn't been a lot of time for other things. We hope to travel a bit more next year.
You and your wife run the fabulous Dolci Café in Craighall Park – tell us more about how that came about?
One of the main ways I earned extra money while studying and being a young actor, was to work in restaurants. My wife also comes from a restaurant family. So when Jackie wasn't enjoying her job in corporate and I was getting tired of being a waiter and restaurant manager for other people, we decided we should take our destiny into our own hands and start something of our own.
We have expanded four times in the last three years, and while pastry is still a core part of our business, we are now a full scale Italian restaurant, offering breakfast, lunch and dinner seven days a week. We've gone from having 20 seats in September 2015 to 130 seats now. It's been an intense journey.
Bucket list travel destination and why?
Not the answer you want, but I don't really have a single destination. I moved around when I was younger. I have travelled around Europe and America quite extensively, though there is still so much to see. Next February I have a short job in Malaysia, so we'll spend an extra week exploring some of the islands in the area, which will be a first for me.
I also want to spend some more time exploring South Africa. We just spent a week in Southbroom KZN, which I'd never visited before, and it's a beautiful part of the country. There is so much in South Africa and her neighbouring countries that I haven't seen, so I think that is my short term travel goal.
Books or movies and why?
You can't ask an actor that! I LOVE movies, they are the reason I wanted to act as a career. But even when I'm on set I read voraciously. I couldn't live without either of them, but I probably read more than I watch TV or movies, especially since opening the restaurant.
My job in the restaurant is front of house, so I talk to people all day. After that sometimes I just need the quiet of a good book.
If you could have dinner with one person, alive or dead, who would it be and why?
Living in South Africa, I would have to say Madiba. All the quotes from people who met him talk about the impact he had on them, and how he brought a peace to the room. I would love to have dinner with him and hear about his life first hand.
Make sure to tune in to Generations every weekday at 20h30 on SABC1.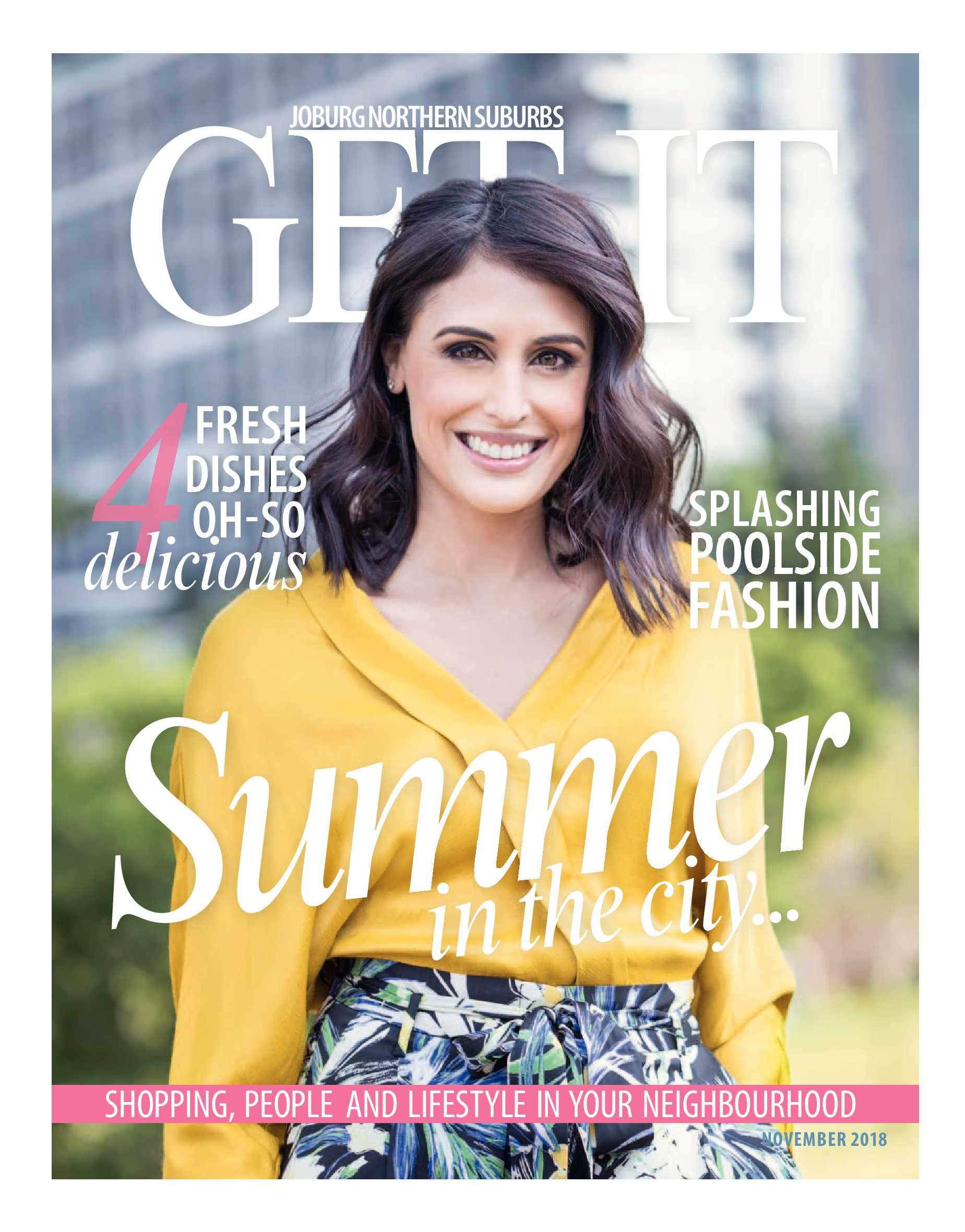 Going Down … at Graskop Gorge
Imagine a lift taking you more than 50 metres down the face of the gorge into a forest below … a forest where you can explore one of South Africa's few Afromontane regions. Welcome to the Graskop Gorge Lift Co.
November Summer Spoil
Summer's looking more and more colourful. With shades of sunset pink, marine blue, grenadine and more, these Chameleon ICE watches go from the beach to the cocktail bar … beautifully!
Win tickets to Calum Scott with an exclusive meet and greet
Win with RMB WineX 2018
Calling all connoisseurs, happy sippers and wine lovers in general – the Must-Attend wine event of the year is heading our way.
October Spoil 2018
Welcome summer with an extraordinary rosé
Spring Spoil
We're celebrating the arrival of spring with a sundowner picnic
is a national brand of premium free magazines available in centres across the country.
to see other Get It magazines in the network.